Find Your Path to A Welcoming Walkway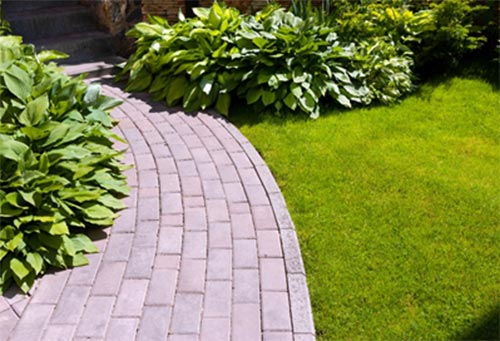 If you're looking for a way to make your front entry and landscaping more welcoming, maybe this spring it is time to consider creating a new walkway to your home.
The costs involved in the installation or repair of patios and walkways are dependent on a number of factors. For a patio or walkway, the larger the area, the more expensive materials and labor will be. An equally important factor when it comes to costs is the materials. Both the type and quality of the materials you choose will impact the price.
According to Home Advisor, to install a patio or pathway, most homeowners spend between approximately $1700 and $4600. That's a big range in price but it all depends on the type of material you use.
Types of Materials
Brick: There is a wide variety of brick types available; all are installed using grouting. Brick is a material that is largely affected by weather and moisture. If you live in an area with lots of cold and moisture, you will need a different type of brick that can withstand the elements and it will cost you more.
Concrete: A poured concrete is an affordable material that requires simple and relatively quick installation. It is one of the most affordable patio and walkway materials because unlike brick, tile or stone it does not require individual pieces to be laid and grouted.
Stamped Concrete: This is a method by which concrete is poured and then a pattern that looks like brick, stone or tile is stamped into the concrete surface and colored or painted to look like the material it is mimicking. Using stamped concrete is a more affordable way of getting the look of brick or tiles without paying the higher price.
Concrete Pavers: This mix of cement, sand, stone and water and are made to look like natural stone, without a natural stone price. Concrete pavers can be installed in a few different ways with and without grout. The type of installation you choose will alter the price, but normally you will pay less for concrete pavers than you will for stone or tile installation.
Stone: Natural stone, like flagstone, slate or travertine, are the most expensive materials you can use for a patio or walkway, but are very beautiful and last a long time.
Labor Costs
In addition to costs for your materials, you'll also want to factor in the cost of labor. Although laying patios and walkways is not a complicated process, it does take experience and the proper tools to do it well. Because patios and walkways are exposed to the elements, they are prone to cracking and settling. A professional installation can make the difference between a patio that develops cracks and unevenness and one that looks smooth and even for years to come.
Start with Some Research
To start the process, check out HGTV's ideas for many different ways to improve your walkways including materials and plant features.
Questions? Contact Suzanne Royce Today!